Briefcase is one of the important accessories that take the major part in men's professional life. Buying a quality leather case indeed becomes vital. Hence, buying the product that is durable and long lasting is very essential. Check out the quality factors to pick the right quality briefcase.
Type of leather used:
The quality of Leather is the main factor that determines the overall superiority of the men's briefcase. The features of the top quality leather briefcase is that it should be sleek and professional that is been made by the genuine leather posing durable and flexible nature.
Full-grain leather is the superior leather type that makes the most durable briefcases.
Top-grain leather is an affordable and excellent alternative to full-grain leather. It too posses the long lasting nature but tends to be little substandard to the full grain type.
Split-grain leather: it is a water-permeable and thinner type. It won't last as long as higher-quality versions.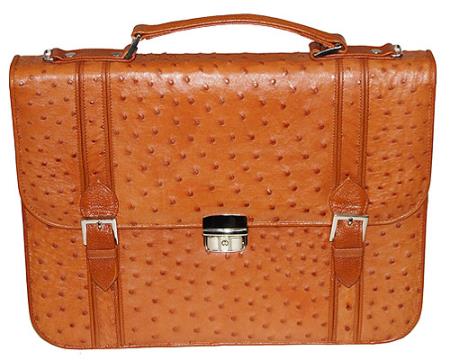 Materials used for construction:
The external materials used in the construction of leather briefcase should be noted cautiously. Check the locks, handle, shoulder strap fittings, zippers, buckles and metallic rings being fitted in the case are of proper condition. You can check it either by turning the bag or by zooming into the product pictures and observe the quality of the fittings.
Durability of the briefcase:
The stitching should be even and straight without any loose threads and improper lines of stitch. The inner and outer surfaces should provide protection against wear and tear. Opt for metal zippers than the plastic closures. The metallic type tolerates more number of open and close functions. The hinges of the bag should be sturdy and free of rust. The handles should be of firm type with reinforced stitching or metal fixtures. Avoid handles that are been glued.
Compartments:
Opt for cases that are compact and slim. The bag should have enough compartments to keep your contents in the organized manner. If you are traveling and have a rolling briefcase, it would be ideal to have a complete separate section for a few items of clothing. It is better to have separate compartments for quick access to flight boarding pass, wallet, keys or mobile phone.
Size and weight of the briefcase:
Many believe that bigger the case stronger its nature. This is truly a myth. A dimension of the bag is what plays the major role in selecting the right quality one.
The ideal dimension for a briefcase:
Width: of between 15 – 16.5 inches
Height: 11 – 13 inches
Depth: 4-6 inches
Depending on how much you need to carry in your bag, you can alter the inches.
Cost of the leather case:
If you want to buy quality leather case then you should be ready to spend huge chunks for money. The least expensive material may save your money temporarily but you will need a quick replacement for your fake leather quality.